Other Cranes Around The World
As the arts cross over so do the people. We say 'YI WU HUAI YOU' Which means through the arts meeting freinds.
The people on this page are people all relevant to the arts I practice in some way. Either I have met them personally, or been in contact on the internet or phone. These are just my impressions, if there are any factual errors please get in contact so I can correct them. There is soooo much knowlege in this page. They are in no particular order.
Europe
England
Bournemouth
| | |
| --- | --- |
| | Graham Moughton from Ni Kawa Kai is a into Karate and Aikido and all the clever japanese stuff. Latterly he has become interested in Okinawan Karate and so it a bit of an undercover Crane although he will never admit it. I admire him and his club , but most of all for his karate belly - the secret of which he has revealed to only a number of students. Here is his Belly Training Schedule. (he is actually thinner than in this picture which I have had to squash a little... ). Also here is a 5 Meg .mov file of one of the Haku Tsuru ( white crane in japanese ) forms that he practices. Although not always bearded, he has a long pony tail, and often sports a mexican bandit style moustache. |
Isle Of Wight
Simon lailey runs SanShanGong.com. I have visited his club a few of times. He is extremely well practiced. Originally from a karate background, he lived and studied for 2 years Crying Crane and Dog Fist in Fu Zhou in the early 90s.

His CV is on his web site. He is my only point of reference as someone who has seriously studied crane in China by going there through his own drive and research. For this I have a feeling of affinity for the path he has travelled, although I think he is further along that path, partly because of where he set off from, but also because he has been on the path a lot longer than me. I have never met anyone else who has done dog style.
London Dennis Ngo
A really modern kung fu character!! Dennis Ngo studied Nam Yang Tiger Crane combination in Singapore ( where he is from ). He then split from it and started to teach the Tiger Crane syllabus deceptively under the name Fu Jian White Crane which he was still doing in 2001 which was the last time I visted any of his schools. He runs one of the largest pyramid based organisations in the UK. He has many students who revere him, and many ex students and coaches with whom he is on very bad terms.

Because this is a mixture of styles, they are unwilling to acknowledge anyone as being head of the system they teach. Some of the coaches are good but have one of those unswerving worship / loyalty things going on.

His web site claims to know his linage back to Fan Chi Niang on his web site, this is either not true, or if it is, he is not telling anyone what that lineage is including his own students and coaches ( In my own research I have been unable to find out ). He claims his teacher was Master Ang although it is most likely he spend considerably more time with Master Tan the current Nam Yang head. All of this I find slightly offensive.

This may seem like a harsh entry, but he or his organisation is currently advising him to sue me for being in contact with his members ( or ex members I am not clear ). I lovingly think of him as the Leung Ting of White Crane, and of his organisation as the Galactic Empire. hmm...I suppose somewhere in there must be a Darth Vader sent out to exterminate the rebels...etc etc etc. Well..now you know I am not just sucking up to people on this page I suppose!
Epson
The Nam Yang Pugilistic Association is a Singaporian based kung fu organisation which also has a branch in the UK headed by Ian Armstrong. I first saw their club in about 1992. I was very much impressed with their training and at that time this was the closest I had seen to people doing the same crane as me. I think Ian started his training with Dennis ( above ) but then stayed with the Singapore association when Dennis broke away. With both these clubs the similarities and differences with Yong Chun crane are very interesting ( same forms , different breathing / stance emphasis ). I would definitely visit Ian if you have the chance ( Do not be put off by his title of World Champion on his web site!! ).

Ian visited here recently - I consider him to be like a big kung fu brother as I have none in the UK. Nam Yang rocks !! but in a different way to us. Think Kung Fu Hustle.....
Surrey
Darren Trottman runs clubs in Surrey. He orginally started with Tiger Crane combination but for a few years now has been forging his own quite unique areas of expertise. Travelling and researching widely, he is majoring Callling Cranekungfu which he trains with with Master Fengwu in Fuzhou. His web site is here: http://www.southerncranekungfu.com . I have known him by good reputation and friends in common for a few years now. In comparison to me I suspect he takes his martial arts very seriously, but has yet to complete the ultimate challenge which is to maintain his muscly physique at the same time as attempting to raise kids.

Hopefully, we may get him over here in the later part of 2011 for a beer or 8, some a cupello singing and the the traditional naked kung fu on the beach at midnight.
Holland
Evert van der Meulen vandermeulen@betuwe.net is not only a count ( kool name dude! ) but also write:

Personally I am a Hung Kuen teacher, but also learned some old style Wing Chun. So far I did not see these forms in modern day Wing Chun systems, referring to Yip Man.
My current focus is on Saam Jien and Tit Sin Kuen (Iron Wire Boxing). I believe they are from the same family.

He has also given us this fantastic Iron Wire Clip (8 Meg) which all looks way too deep for me - but lovely to see. This is a .wav file so you may have problems if you are on a mac.

To say everts knowledge is extensive is an understatement. I have visited and seen his one handed Shaolin Wing Chun form and they are extremely interesting.
---
Italy
Andrea teaches in Verona . His school details are here : www.junshinkan.it His is a karate man who has always taken an interest in crane. Over the years he has travelled in China and trained with Jing Jing Fu making him one of the very few people to do that ( this is the same as Simon Lailey and Pat McCarthy as well I think ).

More recently he has been training in Yong Chun with Su Yin Han - this is a stance from that training. This means that much of what he is doing is the same as me.

I have never met Andrea but am sure he is very seriouse about his training - and the world is a small place to look forwards to doing so as he has a very individual set of training experiences.
---
Germany
Hamburg
Jan Hintelmann sifujan@gmx.de is a Wing Chun His lineage is Wong Shun Leung http://www.wingchunkuen.com/who/masters/wongshunleung.html The person he trains with is the son: http://www.yangshengvingtsun.de/pics/chinese_4.jpg

He is the rarity of being an avid and formidable practitioner and researcher combining a fantastic Wing Chun lineage with interest in meditiation and what becomes of you in the arts. i.e. the demons all long term practitioners face ( he is publishing a book on it ).
He has been to play with me in Mallorca as part of his research - a process which opened my eyes to some of the possible roots of the evolutions of some of the Wing Chun techniques - as well as the applications of some of the moves from my own Crane forms. See his Su Nim Tau ( 10 Mg ) and watch him beat me up here in his drills..... -
Jan also visited Yong Chun recently, and trained there with Pan Chan An the nephew of my teacher Pan Cheng Miow.
Canada
Montreal
Lorne Bernard white88crane@yahoo.com Runs a Kung Fu academy which teaches mostly Crane but also has experience of other systems. He has studied crane since 1982 . His crane is Flying Crane from Malaysia. Lorne has written a very comprehensive and beautiful book about many aspects of the crane he teaches. Read more about it on www.kontactsports.com This is one of 2 crane books ( together with Yang Ze Ming's ) which I recommend to people although neither of them are about our lineage specifically.

He has very kindly sent us these photos - check out the depth and width of the stance - very interesting. Also toes in at the front. Also - classicaly Crane - a willingness to do it in everyday clothes!! Check out his web site which has some excellent montage clips of them in action.
China
Hong Kong
Li Gong is a White Crane teacher in Hong Kong. A long time ago he wrote a book on White Crane together with Su Yin Han. I visited him for a brief meeting and lunch in Hong Kong and he and his students were very welcoming.

I am not sure of where his crane is from but I know it's emphasis is a little different from our own, and yet without a shadow of a doubt Crane. This contact is really someone I would recommend to go to see - definitely a piece of the picture, but unfortunately I did not have time to understand what they were doing and so any interpretation I could give would not do service to their work. If I were in Hong Kong this is where I would study.

If you want to chase Wing Chun connections and see an version of Siu Nim Tau which is NOT standing still then here is where I would start your search.....Li Gong also appears on some You Tube clips.
Singapore
Singapore
Master Tan is the head of the Nam Yang tiger crane association in Singapore. I had the good fortune to meed up with him in Yong Chun for a night in 2006. If the malaysians just accross the borders are our lost brothers, then Master Tan is like a distant uncle to our style. He is the Master of Ian Armstrong, and used to be the Master of Dennis Ngo from Kung Fu Tai Chi . com.

Their holistic approach to life, training ( very powerful ) and entertainment made the evening in Yong Chun one I will never forget!! If you save the picture on the right to the desktop you can see more. ( it it compressed on this page ). If you are travelling through Singpare , go and say hello! ( Here is their web site. )
Malaysia
Johor
Paul Chew leads the group in Malaysia which Theo is part of. He is the man with the dark blue shirt in the middle. I suspect Nam Yang has at some time trained through this lineage as well....

I visited Paul in 2007 and of course his students are very powerful as is Paul! - He is a foreign guide for me and a core man.
Canada
Ontario
Hing-Poon Chan pchan@achilles.net ( for that is indeed his name ! ) is a very knowledgable Meibukan Goju-ryu practitioner. He has been very helpful and I have seen him perform many katas beautifully. He has a very informative and well researched web site and has cross trained in variouse kung fu styles with a strong interest in Crane and it's links with Gojo ( or not.... ). One of his students Mathieu.Ravignat@SSHRC.CA is especially interested in the Gojo lineage and he has a beard. This does not seem to impede his ability to do karate. Here is a phot of Matheiu and his Hu Tz - In fact I have just noticed that in the Eurasian camp on this page beards are in the majority.

Poon visited here for a week in 2007. It turns out that he is firmly in the Kung Fu camp. The second person I have every met who practices Ba Chi Chuen - and a great provider of tea. Yet again, visited by seniors!
Canada
Calgary
Bob Kho teckguan@shaw.ca is head of the Teck Guan school in calgary http://www.teckguan.ca/index.htm. This is what he writes:

Fujian Shaolin White Crane Kung Fu, Shaolin Chan Zhong (Zen) Chi Gong, and I Ching Tai Chi. Apart from extensive training in both traditional combat and modern self-defense, Sifu Kho is a skilled practitioner of traditional Chinese medicine for the treatment of internal and external injuries.

In converstion with him on the phone, his lineage is extremely close to the style that I practice - except that he does it with understanding and a rich contextual knowledge. For research on Yong Chun Crane outside of Asia, I would consider him a first port of call. He may be part of the 'Candian Conspiracy' to snaffle many of the best martial artist..
America
Boston
| | |
| --- | --- |
| | Dr. Yang, Jwing-Ming is a scholar and practitioner. I know from email communication that he is very helpfu. His web site is www.ymaa.com. On it you can find some fantastic AVIs of both he and his students in action. His emphasis is on the joining of Crane and Qi Gong , and the energy flows although his rich heritage includes Long Fist. Among his publications is what I consider to be the best book I have read on Crane. Details can be found on his web site. |
---
George Mattson
I have been in contact with George for ..... ever it seems - mostly because by a freak of chance he stayed at my mothers house as a student, and left his book on okinawan karate behind. This was one of the first books written in the 70's ( 60's ? ). Fantasticaly researched, with interviews and essays from japanese masters of that time before everyone else even knew what martial arts was here in the west It has had pride of place on my bookshelf for many many years.
Go to his website - ww.uechi-ryu.com which he has run forever and not only will you see a picture of the big smily man himself, but also younger skinny version suffering the rigours of traditional training, loads of avis, resources and information about the system and all in all a great example of how to run a business and provide lots of information for free on the same site. I Salute you George!
(Oh why is he a crane at heart? uechi-ryu has a crane history.) Oh yea - madly they front kick with their big toe. I've seen it in okinawa. BANZAI!!!!

South Lake Tahoe
Helen Shen is mad. She in convinced she can do Tai Chi while skiing. You don't believe me? Check out her web site at http://www.taomartialarts.com/. Also she is a Crane and proud of it!! Some lovely mpegs (hooray!!) of her forms are on her site. This is what she writes:
My Sifu's name is Dong MuYao, he is also from Fujian province during the WWII, now he is 85 yrs old and resides in Taiwan. There is an introduction about him on 2003 July/Aug issue, Kungfu Qigong magazine (it is renamed to Kungfu Tai Chi magazine now, or can be found in kungfumagazine.com). You might also find my husband's article "Of Tai Chi and Tai Chi Chuan" on 2004 May/June issue, and "Tai Chi Skiing - The Dance of Cosmos" at the magazine last year. All for the good time. :)

I have only spoken with her on the phone. Her stuff is living history. She is one of 3 people who have trained extensively to my knowledge with Dung Mu Yao. If you know nothing of kung fu then you may wonder what planet she is on. If you are a crane conniseur like me, you will relish her work like a rare and exceedingly fine wine. She is a gem.
South America
Brazil
Fernando - no only the name of a top ABBA song, but also a crane dude in Brazil hakutsuru@bol.com.br. He writes
: Okinawa Tsuruken is a spurious version of Fujian crane styles, reconfigured to the karate paradigm into the Japanese fascist ideology (militaristic) of "simplify all to the common citizen can to learn all". I think that comrade Mao had the same opinion :)Pós-WWII researches improve a few this obscure side of the Chinese influence on karate via Gokenki, a Chinese Tea merchant that arrived in Okinawan around 1912 and probably who introduced the Bubishi to the "l'enfant terribles du karate": Miyagi, Mabuni ,etc. My crane came from Gojukensha, that organized it in the katas:
Kakufa or Haufa, also Paiho/Baihe
Paipuren/Ba Bu Lian/Happoren
Nipai/ Neipai/Nipaipo/Er Shi Ba Bu
and few others.
Still to see him in motion.....(venga Fernando, venga!!!)
Mexico
Alberto has been investigating white crane for a long time. Starting from a karate perspective he has been entering via the ba bu lien route. I have been in contact with him for many years sharing clips via the internet and have a lot of respect for where he has got to with a wide range of investigations.

This would be a good starting point to visit if you are in the Mexico area: http://www.baihequanmexico.tk/
Ukraine
| | |
| --- | --- |
| | There is a group in the Ukraine learning from Su Yin Hans DVDs - They are fairly strange: here is the last email conversation I had with them. |
Australia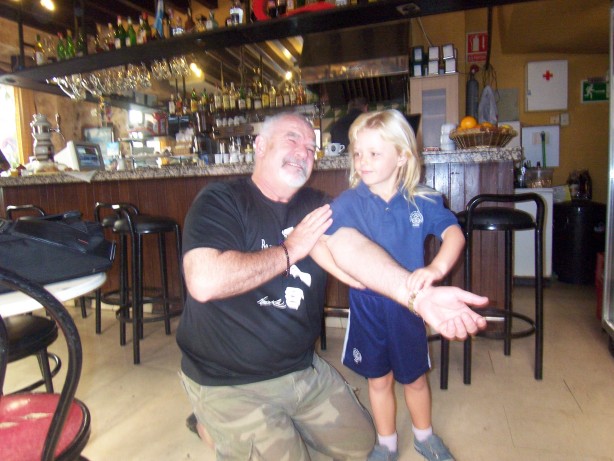 Patrick Mccarthy has written many books on traditional karate and is one of the best known western practitioners of traditional okinawan karate as well as having investigated many of his own links with crane and fujian. He writes things like:
The three-fold path of learning seems to take each of us on a different journey albeit identical in principle: Detachment, coming into contact with a source of higher power and becoming a recipient of its/his/her's teachings and finally returning to deliver the message. Such learning is tempered nature/nurture, cultural landscape, social mindset and desire. In your case to follow your master, in my case to reformat a cohesive and comprehensive delivery system for the collective body of immutable principles representing otherwise ambiguous hsing/kata practices.
which are inspirational because they make me realise that the hidden secrets of the forms, are no where near as complex as the hidden interpretations of a man who spends too long thinking about them. He is also of the bearded camp, - ( this is an old picture of him and there is something a little strange about it but I can't quite put my finger on it...) He has been very encouraging in my own spiral into confusion and open with advice and help ( appreciated!! )
He has more martial arts experience and knowledge in his little finger than most amateur teachers ( like myself ). No only that but he also is extremely entertaining and honest about what he does. I very much recommend that anyone who has a chance to go to one of his seminars does so.
Sensei mccarthy visted here for a few days 2007 but he was no match for my traditionally trained daughter as shown in photo.



Ron Goninan

is an enthusiastic man. I however tire of reading stuff like this which he has pasted all over the internet:

" Ron Goninan is recognised as a Shifu of White Crane Gongfu/Wushu by the China Martial Arts Association of China. The China Martial Arts Association China. Government University Beijing and China Government Central Party Academy and China Government University in Beijing




On the 1st July 2009, Ron Goninan became a member of the prestigious YongChun YiYun Wushu (White Crane) Research Societyof Chairman Su YingHan , and Vice-President Su JunYi 苏君毅 Yong Chun, Fujian Province, China.

On 22nd November 2009, Master Su YingHan awarded— Ron Goninan White CraneInstructorRecognition and appointed— Ron Goninan as the official Australian Director in charge of the Dissemination of White Crane Gongfu for Australia for the YongChun YiYun Wushu Research Society


NONE of this has much to do with the path of training white crane kung fu. I await to be contradicted on this, but as I understand it, Ron has NEVER been to Yong Chun. Master Su Ying Han ( whom I know personally ) has as far as I know never met Ron - although may be they have talked in some way. The YongChun YiYun Wushu (White Crane) Research Society is really Su Yin Han's group nothing more as far as I am aware. They are just happy to have a member anywhere.Regarding his technical advisers ( just about everyone well known ) they are not doing any more than saying "I will answer some questions for you" - it would put them in a difficult position culturally to REFUSE to be an adviser if someone asked.

I find it personally quite distasteful that Ron presents himself as in some way a qualified yong chun white crane shr fu when the people in yong chun who have trained a lot lot more would not even dream of referring to themselves as Shr Fu. Just realised that the other person on this page that I have issues with how they are presenting aspects of their art is Also a member of this society.

I was personally apalled to get an email from Ron about Master Ruang Dong's passing away in such a self promoting fashion. Most vulgar.